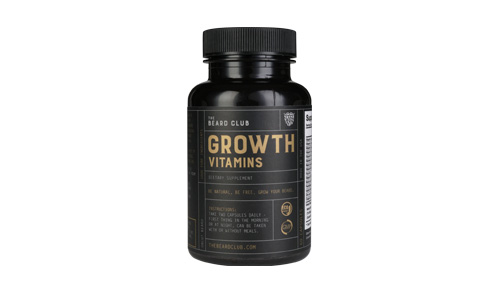 Growth Vitamins
60 Capsules
- $19.00 per month
---

About the Product

POWER UP YOUR BEARD - Uncut Beard Co's Growth Vitamins support healthy facial hair growth for men with beards by delivering a steady supply of all the vital ingredients you need for accelerated beard growth.


FILL IN PATCHES - Growth Vitamins contains the minerals and proteins necessary to kick-start your dormant beard follicles and produce new growth. With the proper biological building blocks in supply, you can achieve the thicker, fuller, healthier beard that you desire.


MINIMIZE BEARD ITCH - Growth Vitamins also helps keep the skin on the scalp and face hydrated, soft, and smooth while stimulating growth. No more beard itch, beard dandruff, or beard irritation.


MULTIVITAMIN FOR BEARDED MEN - Uncut Beard Co's Growth Vitamins are for more than just your beard. They include important nutrients for men, like Vitamin D and Zinc, and can be used as your daily multivitamin. Both body and beard benefit!


MADE IN THE USA with all natural ingredients. 100% Drug-Free Dietary Supplement.


---

Supplement Facts

Suggested Use: As a dietary supplement, take two capsules daily. Can be taken with or without meals.

Warning: If you have a medical condition, smoke, are pregnant or nursing, are under the age of 18, or take medications, please consult your healthcare practitioner before using this product.

Quantity: 60 Vegetarian Capsules, 1 month supply

Made In: USA


Not every man can sprout a thick forest of facial hair overnight, so if you're struggling with a slow-growing, patchy beard, then we've got you covered. Our all-natural blend of multivitamins and botanical extracts is carefully designed to help stimulate beard growth and promote healthy hair follicles while minimizing itch and irritation. This powerful supplement that will help take your beard game to a whole new level.
---

FAQ

How do Growth Vitamins work?
Growth Vitamins gives you the nutritional support to grow the healthiest beard possible. The benefits that can be achieved are:
- Growing longer and stronger hair
- Nourishing your hair from within
- Improving overall health
- Improving hair elasticity
- Stopping hair breakage


How long before I see results from taking Growth Vitamins?
For best results, Growth Vitamins should be taken daily according to the recommended dosage on the label. Some people may notice more facial hair growth in as little as 2-3 weeks with vitamin support. For others, it may take several months. The effectiveness of any dietary supplement depends upon a number of variables, including your diet, genetics, and lifestyle. Don't forget that Growth Vitamins not only makes your beard hair longer but healthier and thicker with less shed or breakage too. You can continually take Growth Vitamins and maintain the healthy environment that your beard needs to be able to grow.


Are there any side effects from taking Growth Vitamins?
Growth Vitamins are 100% natural and drug-free support for facial hair growth. Taken according to the recommended dosage listed on every bottle should result in no side effects. If you have any questions or medical concerns, please consult your physician prior to taking Growth Vitamins.


Do Growth Vitamins contain any allergens?
No. Growth Vitamins do not contain any allergenic protein from the 8 major allergens (wheat, soy, milk, egg, peanuts, tree nuts, fish, and crustacean shellfish).


Do Growth Vitamins help prevent beard itch?
When you first grow a beard, the skin cells are stuck to the hairs as they grow out and end up rubbing against the your dried out skin. The oil balance of your skin becomes confused and switches between oily and dry, which lead to your beard becoming irritated. Growth Vitamins can help prevent beard itch by regulating the production of your skin's oil glands.


What happens if I stop taking Growth Vitamins?
There are no side effects if you stop taking Growth Vitamins, apart from not providing your beard with the perfect environment to grow longer, healthier, thicker hair with less shed and breakage.


Will Growth Vitamins help with baldness?
No. Growth Vitamins is not a drug nor is it intended to treat baldness or hair loss.